ECN TODDLERS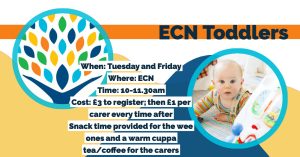 ECN offered a Parent and Toddler group twice a week in the church building.
While covid has changed many things for us all we are excited that we are able to open our doors again to welcome in the wee ones of our community. We have a wide variety of toys and space for the babies and toddlers to be themselves and have fun interacting withe each other.
We also want to be an open space for carers (parents, childminders, grandparents, etc.) to feel welcomed, accepted, and a part of a  community as well. We offer teas/coffees and biscuits for those that come to be able to have a warm cuppa while the little ones run around. Energy is restored as the children get their juice and biscuits and carers can top-up with tea and coffee.
Parent & Toddlers is open to all and we have mums, dads, grandparents and childminders who bring children along each Tuesday and Friday. Come and join us on one or both of the days. There is a rough schedule below of how things go during our time together for those that like to have a little bit more details.
Where: ECN
TIme: 10-11.30
Cost: £3 to register/ £1 per carer every time after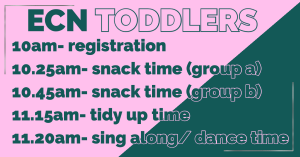 Creche
We have a creche available on Sundays for ages 0-4 from the start of service to the end.